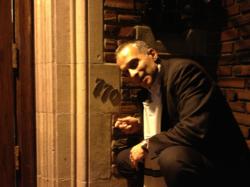 New York, New York (PRWEB) December 20, 2012
Brett Saevitzon, joined a distinguished group of Jewish Lay leaders from around the world at the Annual Chabad Kinus event in New York City.
The Lay Leadership Program of Chabad brings together over 1,000 friends and supporters of Chabad from around the world, who spend 2 days in meetings and seminars discussing the plight of modern Jewry and how to solve and stem Antisemitism, the meetings are followed by the gala banquet dinner which is the high point of the conference, at this years event both the key note address and the honored lay leader, where from Brett Saevitzon's country of South Africa.
The strategic direction of the conference is to continue to share the message of Chabad around the world, and to ensure that every Jew in the world has a home. The message of Chabad in one of inclusiveness, and not exclusiveness.
Brett Saevitzon is the founder of Spot on direct response which is responsible for a series of Infomercial hits including,http://www.stompeez.com and http://www.turbopak.com. Both these shows were honored as Moxi Infomercial of the year
FREE this week at our chabad store:
Not Authenticated: 0093d4e2bd2fff2ce36683bf4e608030065ab3dfe774408be60e56410852fd90219523598f0a8b933f5fa7b6a4d48909e57d4d052585bbc7680a918de6a1b3b627/481cc3d227b4a14ff834f2402860bf8c89f84e939828d8558bced5805b0367a7cab89e52c5f7bc59e16a66527f754d9cab8f0e769f164871cf23422271a05a71
Originally posted 2015-07-19 12:15:04. Republished by Old Post Promoter